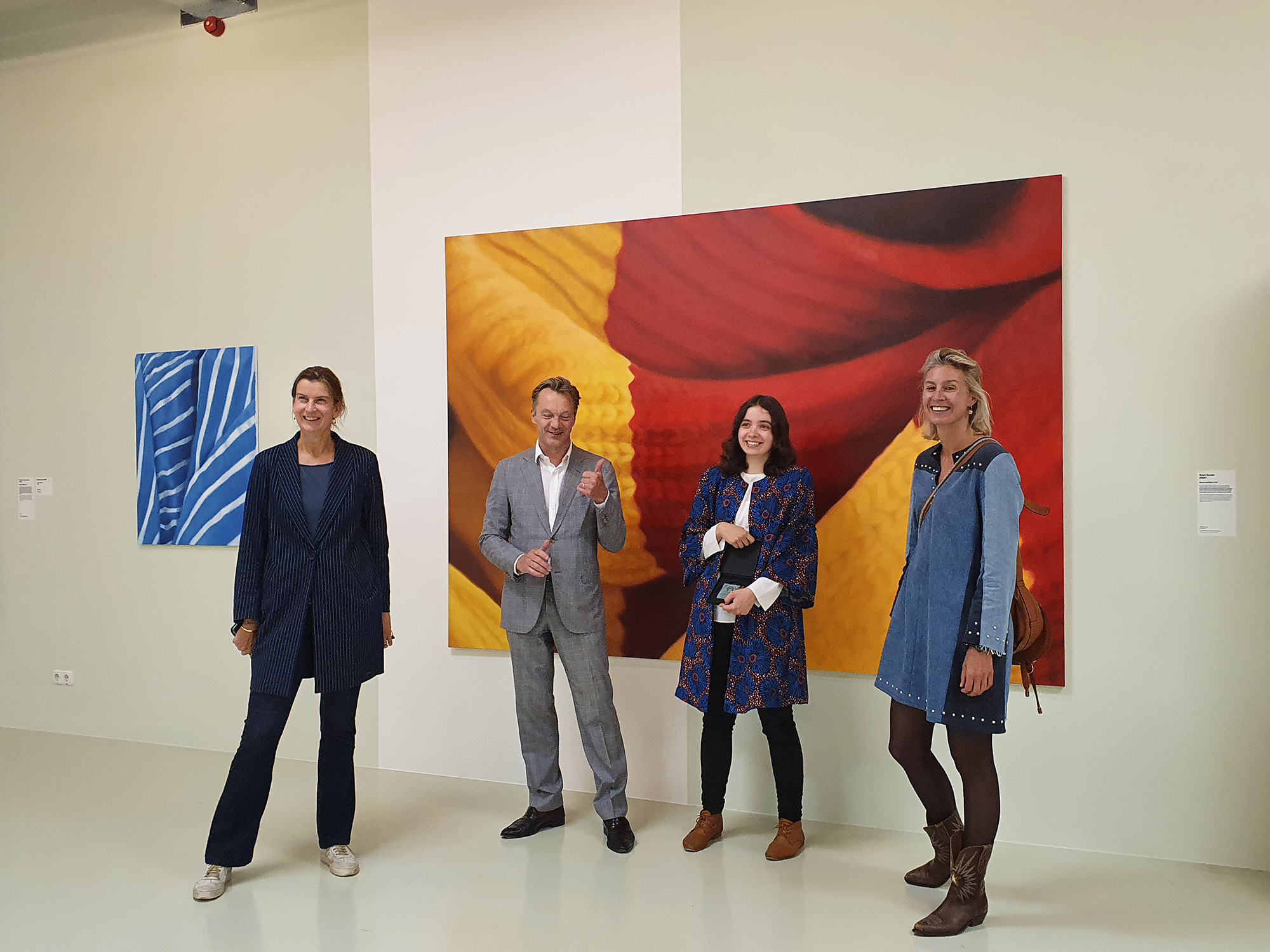 Robin Speijer in the Stedelijk Museum Schiedam
27.09.20
In february 2020 the exhibition 'Realism Now' opened in the Stedelijk Museum Schiedam. Here the style of realism in art was broadly looked at, to show the entire spectrum from hyperrealism to more abstract possibilities of the style. Within the variety of art and artists shown, there were two paintings by Robin Speijer on display: 'Sonny and Red' (2018, 270 x 190 cm) and 'Twice in Stripes' (2019, 100 x 80 cm). These two paintings were both made during her graduation year. For the exhibition the paintings were borrowed from Museum Voorlinden and a private collector.
The exhibition's curator, Trudi van Zadelhoff, saw Speijer's paintings during the HKU's graduation show in 2019. Speijer likes to balance on the border of figurative and abstract within her work, which made it a great fit for the theme.: "Textile serves as the starting point for my work, but that's not what it's ultimately about. Actually what interests me lies within the other shapes the textiles take on when painted, enlarged and removed from their original context."
In september 2020 Speijer was awarded the Sacha Tanja Penning, a prize for figurative arts. The ceremony took place within the museum. Robin Speijer is the youngest winner to date.
"Early in the morning I was called by a number I didn't recognize. Usually I don't pick up when that happens, but luckily I did this time. "Wim Pijbes here" it said on the other line. "Go and have yourself a slice of cake!" I had apparently won something. I thought for a moment that someone was pranking me. Such a fantastic surprise!"