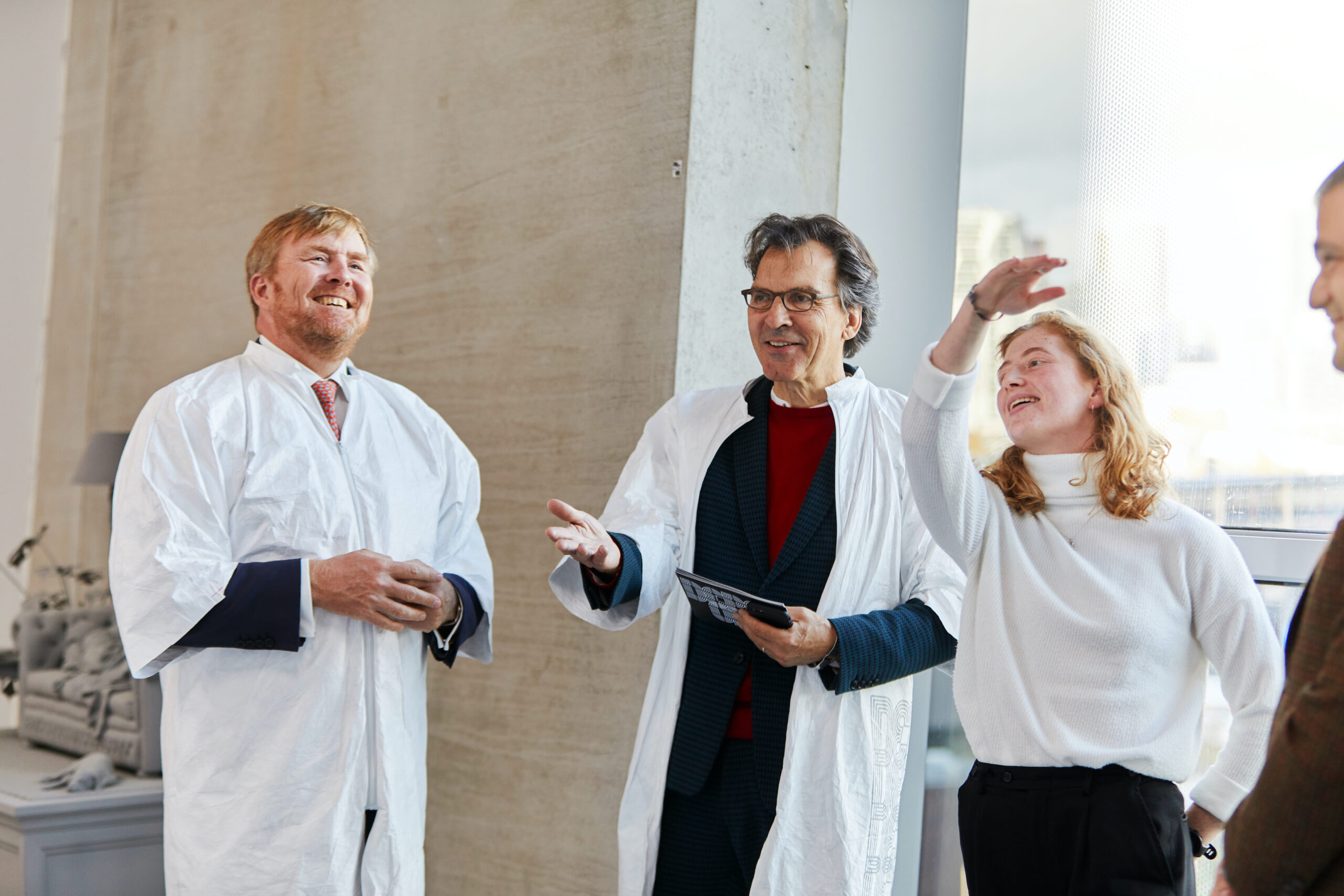 His Majesty the King, Sjarel Ex (Executive Director, Depot Boijmans) and Marloes Roeper at the opening of Depot Boijmans in her studio. Image by Aad Hoogendoorn.
Alumni In Short: Marloes Roeper (BoG 2021)
14.01.22
The alumni of the Best of Graduates exhibitions are busy and going places. Once a month, in our Alumni In Short segment, we highlight one of our Best of Graduates alumni and ask them five key question related to topics such as their practice, current activities, and valuable recently obtained insights . Today in Alumni In Short: 2021 Best of Graduates alumnus and Artist-in-Residence at the Lakeside Collection at the Depot Boijmans van Beuningen: Marloes Roeper.
Name: Marloes Roeper
Age:  23
Nationality: Dutch
Graduated From: HKU (Utrecht, The Netherlands)
Discipline:  Painting and drawing
RMYBF: Describe your practice in short:
MR: I am intrigued by asking what it is we see when we look at a painting. In everyday life I look at my surroundings with an attentive eye, where certain objects, shapes and compositions evoke a direct desire to paint. This desire has not so much to do with the special beauty of these discoveries, but rather with my fascination for the possibility of evoking meaning with a few brush strokes.
My paintings depict recognisable objects, like a set of windows, a soccer field or a flock of birds, all reduced to their essence. The painterly challenge lies in achieving figuration by the most efficient means.
I produce every painting within a single session. This enables me to focus and build the kind of confidence that makes me paint vigorously. I approach these sessions comparable to how I approach a soccer match. I determine my tactics by drawing the subject several times. Every brushstroke is then a well-arrived sweeping pass or assist: irreversible and always in the service of winning. When the painting is finished, I have won or lost. It is no longer possible to adjust it.
RMYBF: How are you experiencing your residency at the Depot?
MR: The Depot is an exceptional location to work at. It is a museum depot in which I have my own territory. The building is somewhat clinical, yet I am working there in my dingy working clothes. This contrast is hilarious to me.
And of course, it is very inspiring and motivating to walk past so many beautiful works of art every day. 
RMYBF: How did you end up at this residency?
MR: The residency is part of a price that I received past summer (2021): The Lakeside Collection Award. 
RMYBF: What is the most valuable insight you have gained during this residency?
MR: I've started planning my days. When I was still at the academy, I looked at what needed to be done from day to day and I was quite chaotic. But now, I have to take my environment into account. I therefore try to work in a more structured way – It gives me peace of mind and makes me work more concentrated. So it's a very positive development.
RMYBF: What make a work of art a "Marloes Roeper work of art"? 
MR: I can use a lot of words to try to explain this, but all these words will be applicable to other artists as well. In the end, a "Marloes Roeper work of art" will be art that comes from my hand.
RMYBF: Which goals have you set for yourself during this residency?
MR: I want to produce good paintings.
RMYBF: What's happening after this residency, how are you preparing for your next steps?
MR: This residency runs till June, so to be honest, I am not thinking about the months after this too much. I have ideas for exhibitions that I hope to develop once this residency has come to an end.
RMYBF: Where can we see your work next? 
MR: My work will be exhibited in a group exhibition at the Mondriaanhuis in Amersfoort from 26 February, together with Boukje Kemper, Hannah Meijer, Monika Nowak en Tian Teng.
RMYBF: Which one key insight do you want to share with other emerging artists?
MR: Don't forget to have fun. 
For more information: please visit Marloes her Instagram or Website.